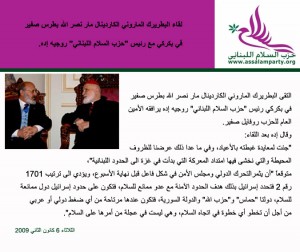 I found this photo in the spam folder of my e-mail today. It was sent by ePublicities, a company that has been spamming us (the Lebanese) for so long now, and the subject was "Me. Roger Edde chez le Patriarche" (Me.? Ah you mean Mr.).
The e-mail itself is weird, I mean never have I received an e-mail titled "Nasrallah threatening Israel" with a summary of one of his speeches inside… Roger Edde must be really desperate for the people to know about him and is aware that he is very un-popular, so he chose to hire some company to broadcast his news. Mni7a! I wonder if some candidates for the next election will be adopting the same "strategy" to reach us.
The logo of Mr. Edde's party is nice by the way, 7ameimeh w 2osas… but one can also read it as "Assila7″, notice how the "M" is written.
Anyway, Assalam 3ala heik party!