Thanks to global warming, the weather on the independence day in Beirut was just awesome! Warm temperature and -almost- clear blue skies made it perfect for a walk at Ain El Mrayseh.
Fortunately the corniche was not congested with joggers and bikers, but fishers were just everywhere, and standing at the most bizarre places!
… the guys above were actually standing right where sewage water is dumped into the sea!
How can they still eat the fish they get from the sewage water is beyond my understanding, unless they sell them to other people like the man below was doing.
However, I seem to have missed a cool initiative by the Lebanese army and Leo Burnett! At around 3:30PM, a military helicopter flew at low altitude over the Manara corniche, releasing thousands of red roses attached to miniature white parachutes, carrying a message "Bihimayat Al Jonoud, Tanmou Al Wouroud", or "Roses flourish under the protection of our soldiers". The operation was called "Roses from the Sky" (you can watch a video about it here)
@chaftari from Leo was kind enough to share these photos with me.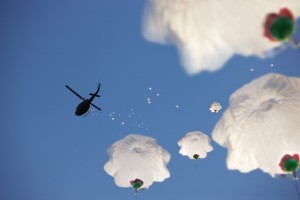 I personally had mixed feeling about this operation… what do you think?