I saw this post by Blog Baladi today and recalled I took the below photo a few days ago with the intention of writing about the same subject, the overpriced items at Zaatar w Zeit!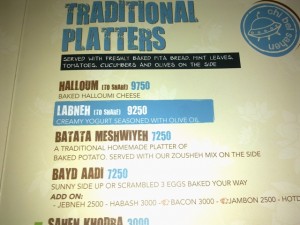 I went to the ZwZ last week for the first time in 2 years and was surprised with their new menu. Stating that the Labneh plate you will serve is "to share" definitely doesn't justify pricing it at 9,250L.L! And what's the price of the add ons to the "Bayd Aadi"?
I honestly used to go there everytime I was low on budget and still wanted to have a good meal at a nice place, but now it doesn't seem like one of the cheaper alternatives anymore… I wonder if they'll listen this time too.