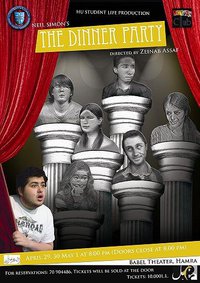 Few days ago I was granted 3 tickets to a new play called "The Dinner Party" which will be performed on April 29, 30, and May 1, at Babel Theater, and presented by Haigazian University Actors' Club
The Dinner Party is based on a one-act play of the same name by Neil Simon, but the guys at Haigazian seem to have added a twist to it.
Six people are invited to a dinner, but only one person knows why. As the guests arrive one by one, they start to realize that they all have something in common. The secretive, ambiguous, cryptic mystery is unraveled through a series of misunderstandings, passionate outbursts and other delightful dilemmas. And what does a tourist from South Lebanon have to do with all of this?
For more information, you can check this Facebook event page.
Since I will most probably not be able to attend, I decided to give them away to the first person who leaves a comment on this post. Yes, that easy!

**Comments Closed**
Congratulations Dalia, I just sent you an e-mail.