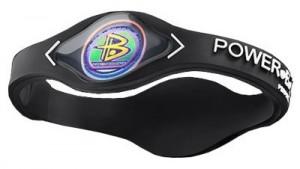 I was watching MTV Lebanon last night and saw and advertisement by some female basket ball player for some silicone wristband called "Power Balance" claiming it improves balance and strength, all for $8!
A quick search on Google will be enough to let you know it is just another scam! Bravo MTV.
In our advertising we stated that Power Balance wristbands improved your strength, balance and flexibility.

We admit that there is no credible scientific evidence that supports our claims and therefore we engaged in misleading conduct in breach of s52 of the Trade Practices Act 1974.

If you feel you have been misled by our promotions, we wish to unreservedly apologise and offer a full refund.
Via Gizmodo