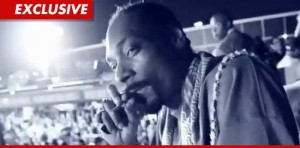 Lebanese police are reported to have started an investigation after a footage of Snoop Dogg smoking weed at some club in Beirut was featured in the music video for "That's Tha Homie".
Kalaouz claims Snoop blazed up some weed in the middle of a concert after-party — which is illegal in Lebanon — and then featured footage of the puff session in a music video for his song, "That's Tha Homie" (image featured above).

Kalaouz claims Lebanese authorities caught wind of the weed smoking — and launched a criminal investigation into his company … leaving his reputation "severely damaged." Source
Shu wi2fit 3a Snoop Dogg? The whole country has been high on something over the last few years!