I'm pretty sure it's not the real Costco, but it does exist, and it has the major American products you might be looking for.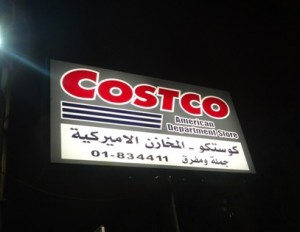 The place is located in Jnah, and I went there last Sunday after a friend told me about it. They have a variety of products ranging between clothing, food and home goods. Part of these available products (especially food) can be found at other large supermarkets like Spinneys, at almost the same price if not lower, while other stuff cannot be found anywhere else and are a bit pricey.
Note that Costco is not the only store of its kind there in the area. There's another place called "Amtrag" located just next to Costco, in addition to a store called "Brands for less" known for importing the German brand "Tchibo" located 100 meters down the road from TSC Jnah. I believe they're all worth a visit!
Below is a map showing where Costco is in case you want to check it out.