Have you ever tasted this Big Burger at Abou Sako?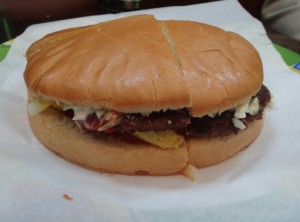 It's about the size of a small pizza (20 cm) and full of your typical Lebanese burger ingredients, loads of mayo and ketchup with coleslaw salad and fries. It does a great job when you're starving, and tastes good for a Lebanese burger, really!
Abou Sako has a variety of other sandwiches, just like any other food joint in the city, but is known to be very generous with his portions and ingredients, and yes they're good too.
If you're curious to check it out, it's located at the Hayek roundabout in Sin El-Fil.