P.F. Chang's, the popular Chinese-American chain, opened in ABC Achrafieh around a month ago, and I decided to try it out last week because of all the positive feedback I heard from some friends who have tried it in Dubai.
The place has a really nice interior and is being almost always packed that you feel so lucky if you can get yourself a table, especially on weekends.
Anyway, back to food business, we were a group of 6 people and decided to share several dishes among which were Dynamite Shrimp, Chicken Lettuce Wrap, Crispy Honey Chicken, Mongolian Beef, Singapore Street Noodles, and a couple more seafood dishes.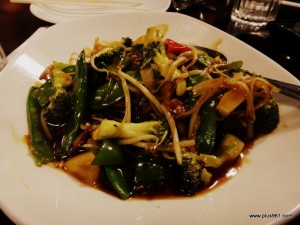 The food tasted all great, and was much different that any other Chinese restaurant in town (especially Chopsticks). And best of all, the menu covers a variety of tastes from chicken to seafood to beef to vegetarian but is not dominated by the sauces you often encounter at other restaurants like sweet and sour, mushroom and others.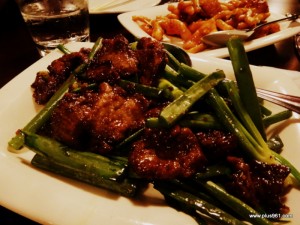 The appetizer I liked the most was the Dynamite Shrimp consisting of fried shrimp covered with yellow spicy sauce. It felt a bit too spicy for some, but it was really good! On the other hand, Mongolian Beef was my favorite main dish consisting of tender steak cooked with scallions.
And if you've got room for dessert at the end, try their Great Wall of Chocolate. It has 6 layers, and the below photo definitely doesn't do justice to how big the portion is.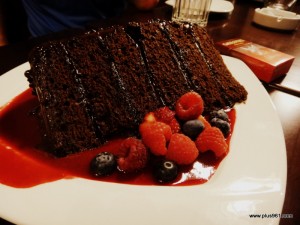 Overall, and even though it's not the traditional Chinese cuisine we lack in Lebanon, P.F. Chang's is definitely recommended to try at least once since it offers something totally new here.
Update:
Sareen brought to my attention that I forgot to mention how is the food priced at P.F. Chang's. Here you go, starters vary between 9,000L.L and 21,000L.L (Dynamite Shrimp is for 21,000L.L), soups and salads are between 7,000L.L and 22,000L.L, while main dishes are almost all between 25,000L.L and 28,000L.L except for seafood dishes that are in the 30's.