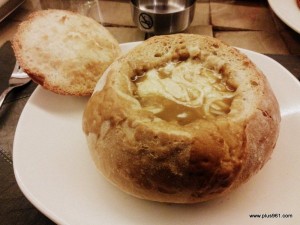 French onion soup is one of the upsides of winter for me. Most restaurants here serve it in regular soup bowls along with croutons, while few other serve it in bread bowl after scooping out the inside of it, and one of these restaurants is Duo (Downtown, Verdun, ABC Ashrafieh, and ABC Dbayeh).
I recently had Duo's onion soup and found it pretty good. It was thick enough to my taste with the right amount of cheese on top of it, and the portion is relatively big and completely fulfilling. Totally recommended even though it's a bit overpriced at 15,500L.L but worth the money.
Duo by the way is also quite famous for their rich salad bar priced at 22,000L.L.