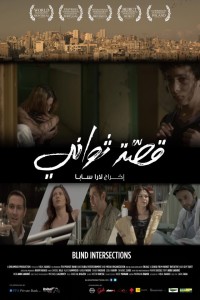 I was lucky to attend the press screening of the new Lebanese movie Ossit Sawani (Blind Intersections) at Sofil last week.
For a change, this movie doesn't tell a story from the Lebanese civil war, nor does it suggest a solution for sectarianism in Lebanon. It actually follows three characters, Nour who loses her parents in a car accident and gets into financial problems, India, a rich woman who dreams of having a baby, and Marwan, a 12 year-old kid who lives with a violent alcoholic mother. These three characters obviously come from different backgrounds and never meet throughout the movie, but the effects of one incident will alter the lives of them all. Don't expect any happy ending, since Ossit Sawani just portrays the daily struggles of Nour, India and Marwan.
I'm not sure how accurate my judgement about Ossit Sawani will be since I'm no movie expert. Anyway, I believe it's good enough to watch even though the transition from one scene to another was not so smooth at the beginning of the movie but got better as the movie went forward, moreover, I believe some scenes could have been cut shorter. Still the movie is worth the ticket price and eventually supporting its producers.
Ossit Sawani is by the way directed by Lara Saba and produced by Nibal Arakji, and started showing in cinemas as of yesterday.