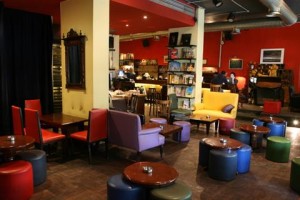 As per this article in The Daily Star yesterday, De Prague will be closing its doors today after 8 years of operating in Hamra.
The reasons of the closure as stated by the bar's general manager Pascale Azzi are the declining number of customers as well as the smoking ban that was introduced in September last year. Moreover, in a second article published today, the owner Raed Habib added that the bar will also be closing due to the general change of atmosphere in Hamra in addition to the increasing violence incidents in the neighborhood.
These reasons didn't really make sense to me because the economic recession and the smoking ban are affecting all the shops in Hamra, yet many places like February 30 and Main Street for example are doing pretty well and always seem to be full at night.
What I guess De Prague should have done to stand out from the competition is possibly taking advantage of the relatively large space they have to setup a small stage and host music bands to get more people to come.
Anyway, I'm pretty sure soon enough some investors will be renting the place and starting a new bar to replace De Prague.