About Rami
Author Archive | Rami
Meanwhile, douchebags in Lebanon were shooting their guns in the air at midnight. Happy new year everyone!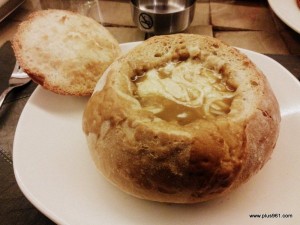 French onion soup is one of the upsides of winter for me. Most restaurants here serve it in regular soup bowls along with croutons, while few other serve it in bread bowl after scooping out the inside of it, and one of these restaurants is Duo (Downtown, Verdun, ABC Ashrafieh, and ABC Dbayeh).
I recently had Duo's onion soup and found it pretty good. It was thick enough to my taste with the right amount of cheese on top of it, and the portion is relatively big and completely fulfilling. Totally recommended even though it's a bit overpriced at 15,500L.L but worth the money.
Duo by the way is also quite famous for their rich salad bar priced at 22,000L.L.
If you missed TEDx Beirut's event last November you can still watch the recorded talks as the organizers are currently gradually uploading them to the TEDx Talks channel on Youtube. Just make sure to follow this playlist that includes all the talks from Beirut. There are currently 7 videos by Suzanne Talhouk, Christopher Littlefield, Farid Chehab, Zeina Saab, Walkabout Drum Circle, Sareen Akarjalian, and Hani Asfour.
Regardless if what she's saying is true or not, one thing is for sure, it's fun when "stars" get upset! Let's hope it will not become a trend for every contestant in Dancing With The Stars to make a fuss out of being eliminated in the upcoming episodes!
From the latest campaign by the Ministry of Tourism in Lebanon.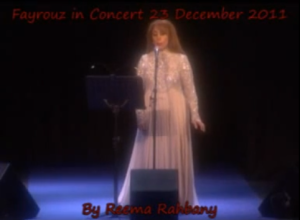 With this segment from Fayrouz' concert last year I wish you all a merry Christmas!
I actually heard a lot of people complaining about Ziad Rahbani's latest concert since it was poorly managed and because they were expecting him to perform more of his old repertoire.
While I agree Ziad should be blamed for probably not following up enough with the event managers, people really can't complain about the stuff he played since the concert program was
made available
when tickets were still on sale and it was clear it will include a lot of jazz!
video via Bechara from Surviving Lebanon
Also check Future's TV
la3younak
.
via Rabih Wehbe.
It can't get any faker than this!