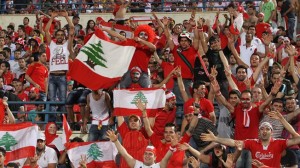 Don't miss following the world cup qualifying game between our national team and Qatar today at 4:45PM Beirut time. This is a quite important one as it can seriously increase our chance to qualify to the world cup in case we won.
If you're wondering how will our chances be affected in case of a win or loss, here's how figo29 put it:
I will keep things simple and put the math first, so that no one would panic in case of a loss:

A win against Qatar will put Lebanon on equal terms with Korea Republic = 80% chance of going to World Cup 2014
A draw will keep Lebanon at the bottom of the group = 40% chance of going to World Cup 2014
A loss will change nothing = 20% chance of making it to World Cup 2014
The game will be broadcasted on Al-Jazeera sports and I guess all major news sites will be posting the important updates in realtime.
Update:
We unfortunately lost 0-1 to Qatar and we now have very little chance to advance to the world cup.