About Rami
Author Archive | Rami
It's amazing how we try to convince ourselves that every single celebrity in this world has some Lebanese origins!
via @figo29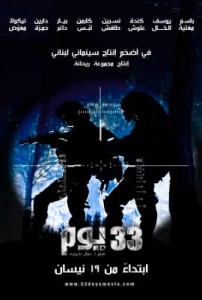 Look like there has been an update on the issue of "33 Days" movie being banned at several theaters in Beirut with Carmen Lebbos announcing in an interview on Talk of the Town last night that ABC Achrafieh will start screening it as of this week, while City Mall still have not provided a confirmation whether the movie will be screened at their theaters or not.
With all that fuss being made over the contribution of Iranians in the movie production, imagine the drama that could have been made if this was a 100% Iranian movie!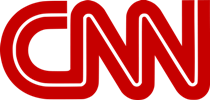 According to this article in Al-Akhbar today, the Lebanese ministry of tourism is planning to pay one million dollars to CNN for promotional reports and programs about Lebanon over a period of 2 months in order to boost the tourism sector after the number of tourists visiting Lebanon declined by 300,000 in 2011 due the instability in Syria.
The deal will include reports about Lebanon to be featured in "Quest Means Business" by Richard Quest, "World Business Today", and a dedicated program called "Eye on Lebanon" for a whole week.
I hope this improves Lebanon's image abroad for a change, and maybe stops people from comparing ever messed up place to Beirut!
Varouj is probably one of the best places I've lately discovered in Beirut. It's a small restaurant hidden in Bourj Hammoud's maze of streets and serves some really good traditional Armenian food.
The minute you step inside the place and get greeted by the owner who's a relatively old man, you'll be surprised by his character as he acts more like a dictator running his restaurant! But he's not rude though.
There's no menu for ordering there and the old man will just ignore you if you ask for it. Shortly after you get seated he'll just come to your table and quickly list to you the available hot and cold dishes. We ordered Hommos, Fattoush, batata Harra, Mouhammara, Sou Boreg, Soujouk, Chicken Wings, Manti, and soft drinks, and although we tried to tell him which plates to bring first and which to delay a bit, he again ignored our request and decided to bring them as he pleases but didn't disappoint us since he was serving us 2 dishes at a time that go really well together.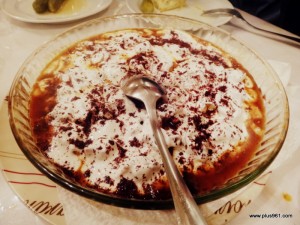 The food was so delicious that we wiped clean the dishes we ordered, all of them, and the old man was smiling every time he notices we finished a plate till the last bit.
Price wise, I have absolutely no idea how the pricing works there! We were not given a bill when we asked for it, he just immediately answered us "90,000 L.L". That's it all the 8 plates we ordered for exactly 90,000L.L, which is way cheaper that other Armenian restaurants like Mayass or Mayrig.
Varouj is TOTALLY recommended as the food is heavenly good, especially the Manti and chicken wings, next time I'm planning to try their little birds, frogs, and chicken liver. If you're tempted to try it make sure you reserve beforehand as it only has 4 tables and always seems to be busy, their phone number is 03-882933.
I'm sorry I was unable to locate Varouj on Google Maps to show you where it is, so I appreciate if anyone can provide me with the coordinates to post a map of it. Here's a map showing where Varouj is. Thanks to Roupen.
I guess this is the first brand to approach a group like Mafi Metlo? Good one anyway!

You can check Nokia's page on Facebook
here
.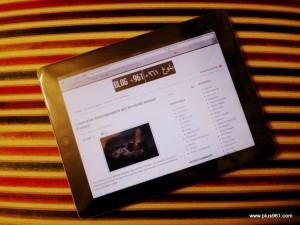 Remember the banner I displayed a while ago for Crest's competition "Spread the Smile"? It wasn't a paid ad, but I was actually taking part in a "competition" organized by Leo Burnett among some other Lebanese bloggers to drive  as much traffic as we can to Crest's page on Facebook, with prizes for the top 3 blogs sending traffic, and yours truly got the iPad 2 above for ranking among the top 3 blogs.
It sure pays to blog and have a cool audience like you, since I couldn't have made if it weren't for your clicks! Thanks you!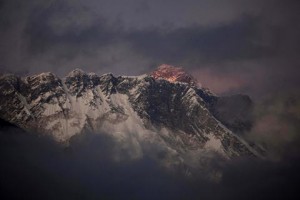 Two Lebanese mountaineers, Bassam Sfeir and Rafi Farajian, are currently making an attempt to climb mount Everest and hopefully reach the mountain's summit like Maxime Chaya did back in 2006.
"Many times during the day and night we hear the roar of avalanches and ice crackling around the camp," Sfeir, an experienced mountaineer, told The Daily Star in an email.

"You wake up cold, go to sleep cold, most of the time you feel uncomfortable," Sfeir said.

"The sounds strike at your heart and instantly you start thinking and wishing of not facing this massive scary scene," he added.

Despite the hazardous environment, the mountaineers have not been put off by the harsh weather conditions, devoting instead their time to the strenuous physical and psychological preparation needed for the climb. Source
All the luck to both of them! I just wish they got the same media support and exposure Maxime got on his expeditions.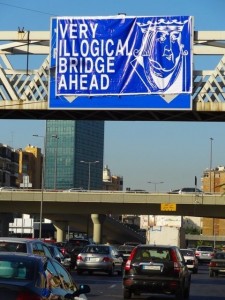 The bridge might be illogical, but it's about time people learn which lane to drive in depending on their destination.
The traffic jam is all caused by people heading to Sin El Fil and insist to drive on the left side of the road until the last few meters before reaching the bridge located on the right side. That of course forces them to suddenly slow down and make a right turn to take the bridge, causing everyone behind them to slow down as well.
Keep left if you're going to Beirut, and right when going to Sin El Fil! Easy!
Update:
Here's the Facebook page of the people behind that sign.
Thank you @Marilynzakhour
33 Days is a Lebanese movie taking place in the summer of 2006 when Israel launched its war on Lebanon after Hezbollah succeeded in capturing two Israeli soldiers on the borders.
This is the second movie about the 2006 war after "Under the bombs", and portrays what people who were resisting the Israeli invasion were going through in the town of Aita El Shaab.
However, since Iranians have contributed in its production, the movie has been banned from showing in Lebanon's most popular theaters like Empire, City Mall, and Grand Cinemas ABC and is currently being shown at Planete Abraj, Concord, Las Salinas, and Saida Mall. What a shame!
I just came across this photo by Cheyef 7alak of raw chicken parts spilled on the road from a truck belonging to Hawa Chicken, with a worker apparently trying to put everything back into the plastic containers.
Notice how messy the inside of the truck also looks. Anyway, one can only hope these parts didn't end up getting sold to Hawa Chicken's customers!
Recent Comments
Categories