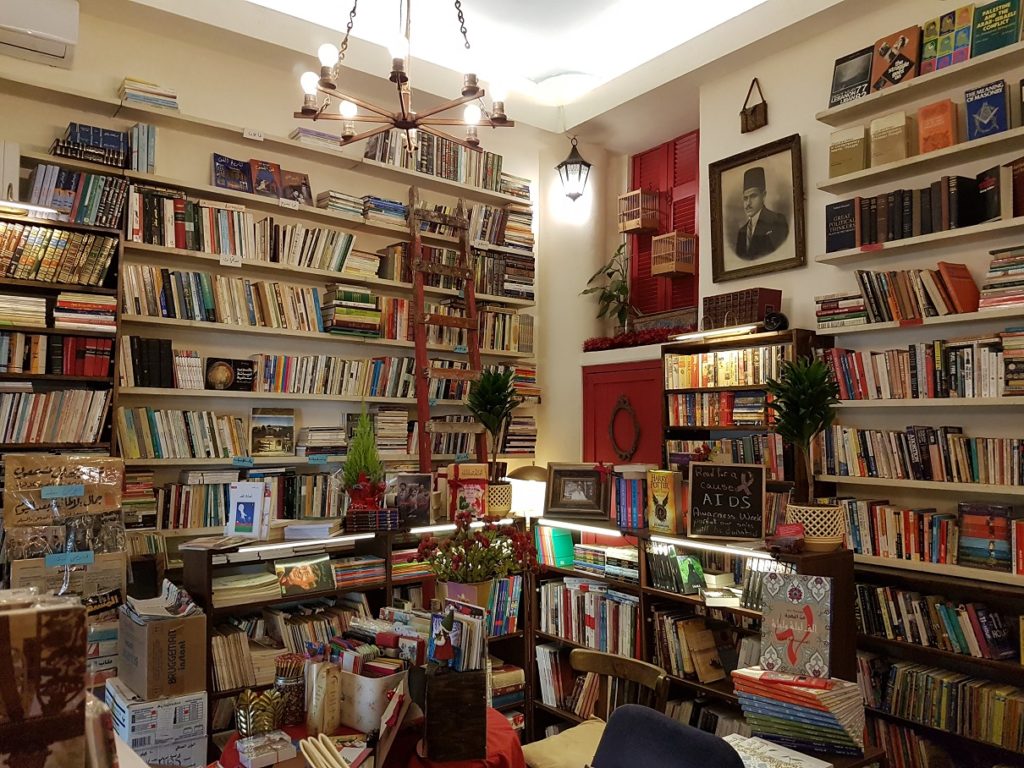 When I was a kid in the early nineties I recall it was hard for me to find a bookshop near my house that would regularly have my favorite magazines until my father once took me to Abdallah Halabi's bookshop (Halabi Bookshop) in Jalloul Street. Ammo Abdallah had all my favorite stuff in one place back then, so it didn't take long until I became a regular customer of his, and going to his shop every Saturday became a habit for me. Moreover, because he also had french publications available, my parents used to regularly pass by him and with time their relationship with him got more personal.
As I grew older though, I eventually stopped getting kids publication and got interested in a specific genre of book that I occasionally buy, however I never stopped passing by his bookshop to greet him whenever I'm in the area.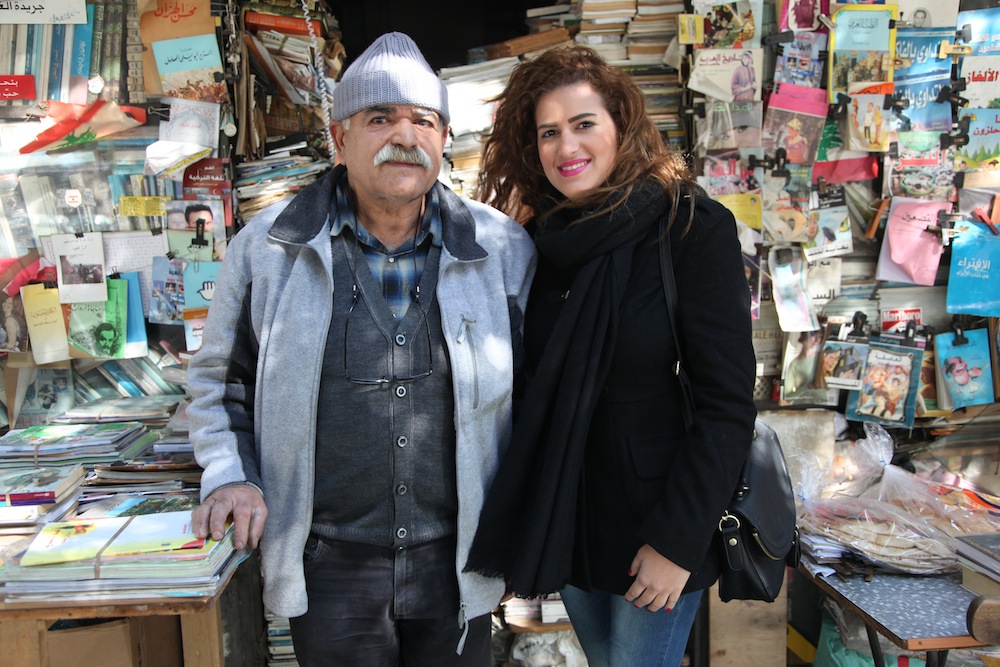 Abdallah Halabi and his daughter Lana before the renovation. There supposed to be a door behind them! Source
Knowing that Adallah Halabi had a thing for collecting books and publications, starting the 2000's you couldn't but notice his bookshop getting tighter every day until it seriously got full a couple of years ago to an extent where you couldn't even tell if that place even had a door! Every time I passed by I used to see a hint of the vintage stuff he has like old Arabic issues of Superman, Loulou wa Tabbouch, Abir, and others… and always wondered what more interesting books he has piling up inside. For some reason though, I had a feeling the bookshop will close down for good at some point in time and no one will ever have access to the gem inside, especially that I never noticed an effort being made to at least organize the large collections he had.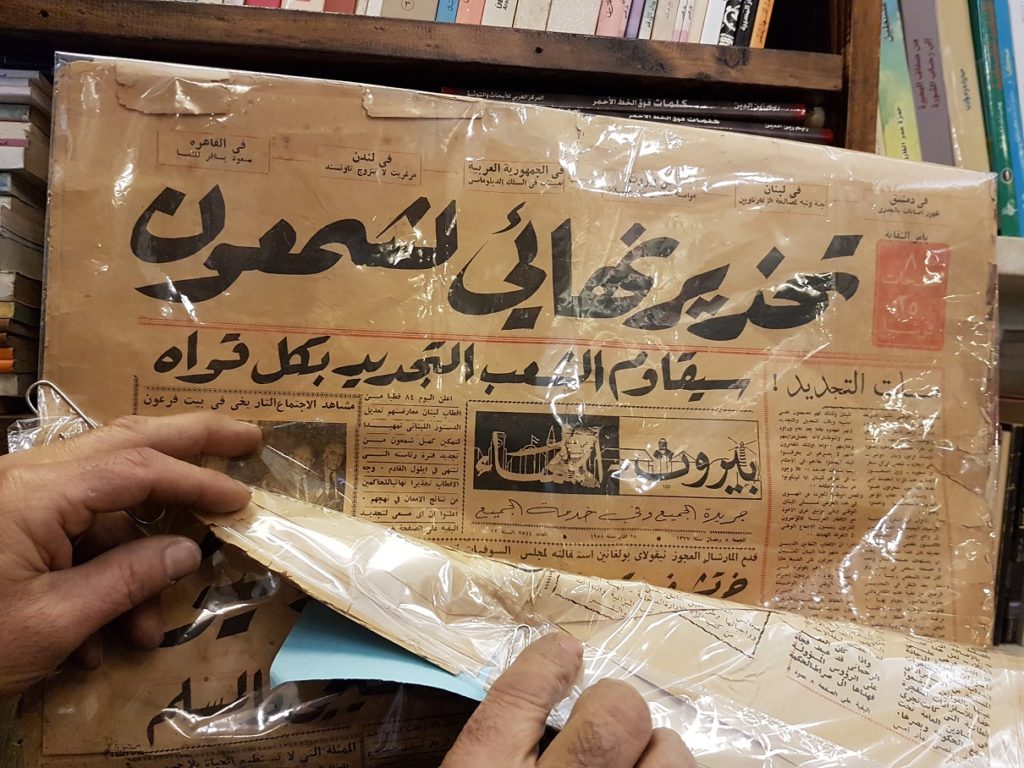 30 and 40 Year old newspaper issues, not for sale
Fortunately, I was proven so wrong last summmer! Lana Halabi (Abdallah's daughter) quit her job and put a massive effort into taking out all the old books and magazines stacked inside to properly organize them, in addition to totally renovating the bookshop with the help of her brother Karim. The result was a nice modern look with the old publications adding a vintage feel to the place. That along with some details here and there like a small cool attic, old accessories, and authentic treats they offer to their customer, made the place feel really unique and standing out among its surrounding.
Over the last few years, Al Halabi bookshop's offering was mostly newspapers and weekly magazines due to the books being inaccessible, nowadays in addition to those you find old comic books in Arabic, French and English neatly hanged outside in addition to rare publication with some dating back to the 1950s and 60s, and they all tempt you to go inside and discover what more do Lana and her father have.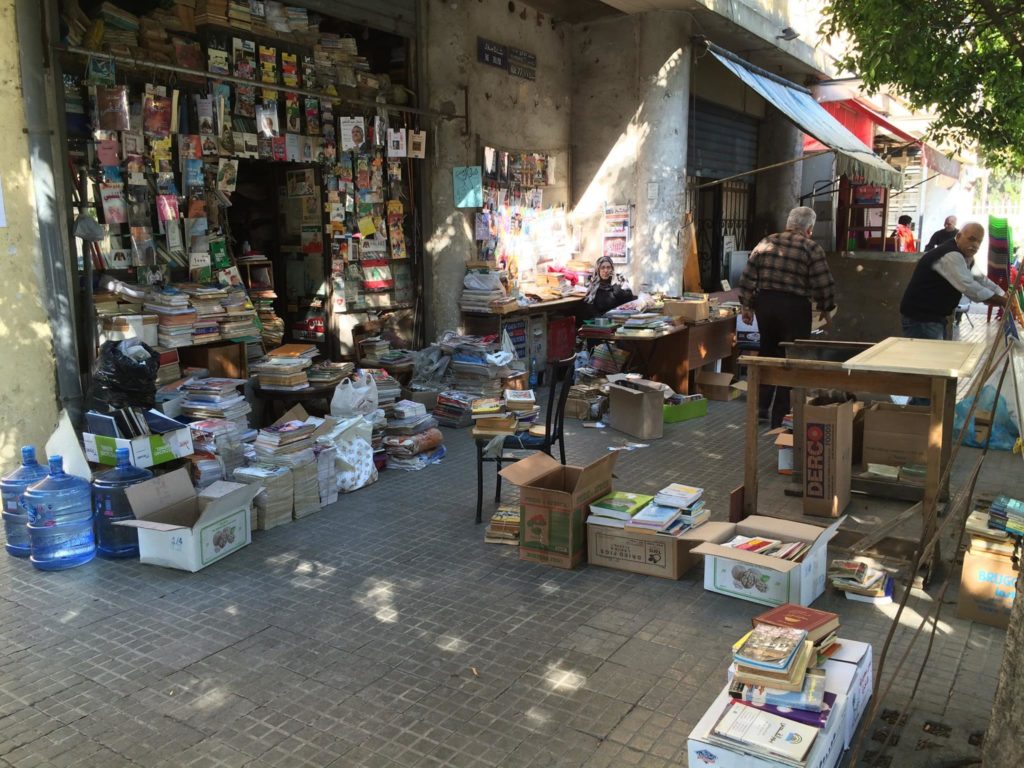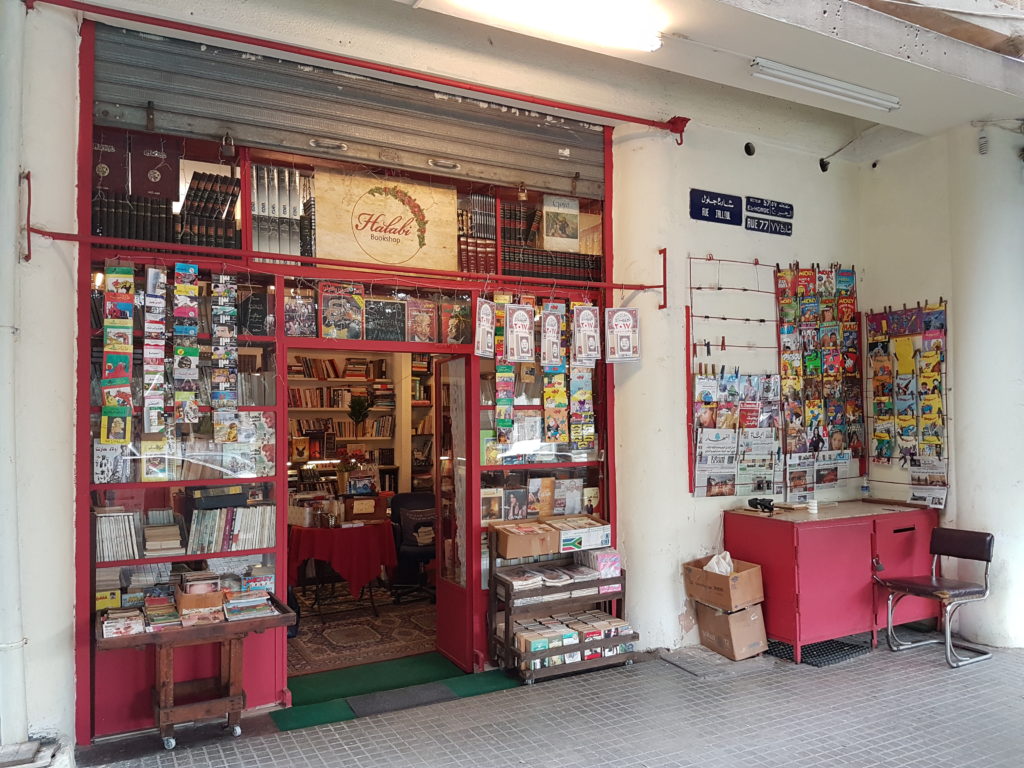 Halabi bookshop during and after renovation
Last week I had the opportunity to speak with Lana and learned that the re-branding of the bookshop didn't only rely on simply just renovating it, as they have been actively participating in book fairs around the city to showcase their big collection and spread the word about their business. I also asked if the old comics and books are limited to what they currently have which means no more will be available once they're sold out, and I was informed that aside from all the stuff they still have but are not on display yet, they're constantly communicating with collectors from several countries in order to get more issues and make them accessible to people in Lebanon.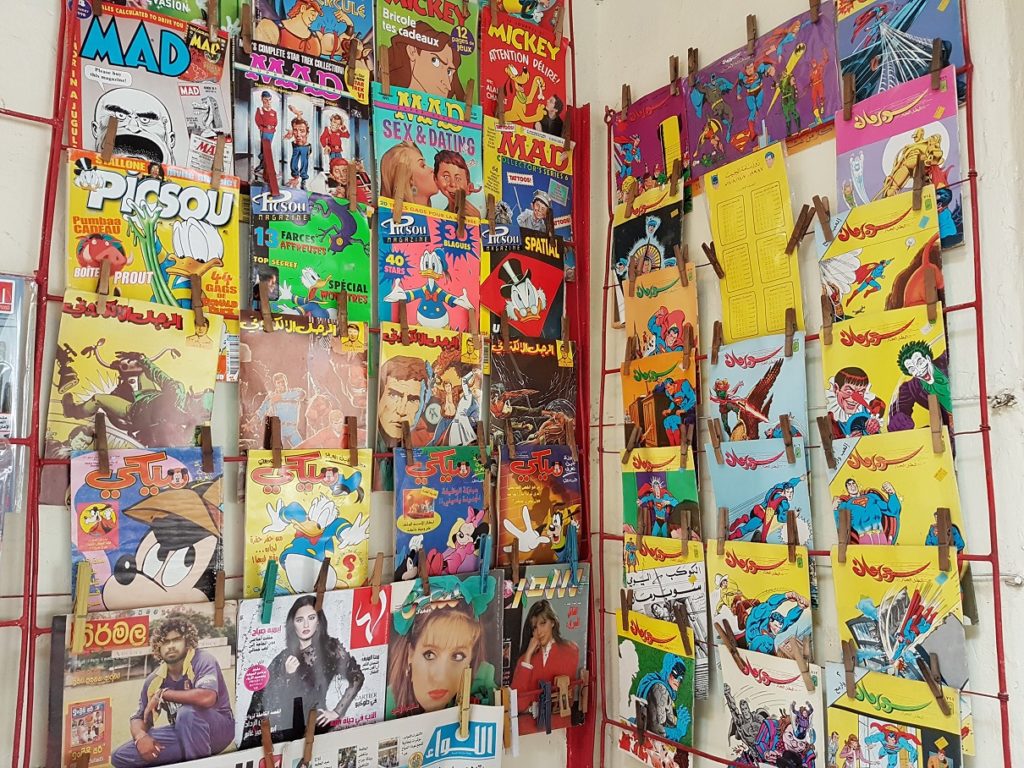 If you have a thing for books in general I highly recommend you go pay a visit to Halabi Bookshop, first for the welcoming owners who will definitely have endless suggestions for you, and second for the cool feel the place has! Their collection is not limited to vintage publications only as they also have up to date stuff, so you will definitely find something to suit your preferences.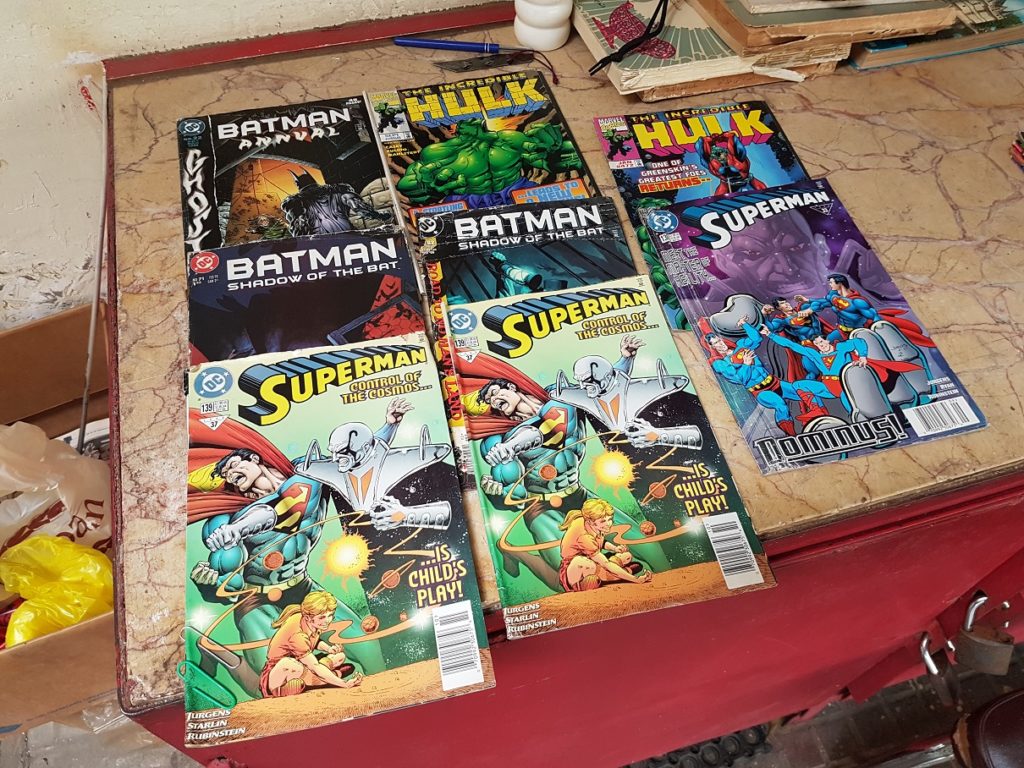 Halabi Bookshop is located in Jalloul street in Tarik El Jadida, and you can check their exact location here on Google Maps. They're also available on Facebook, twitter, and Instagram, so make sure to follow them to keep up with their news and any event they're participating in.