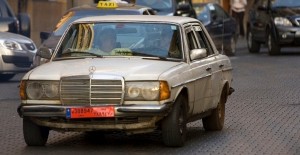 As per this article in The Daily Star today, minivan drivers decided to raise their fares from 1,000 to 1,500L.L yesterday.
"The drivers are no longer capable of keeping the fares at a low level. At LL1,000, they can barely make ends meet," he said. "They [drivers] do not benefit from the [recent] wage increase decision but will suffer from the consequences of the measure in terms of increases in prices and rent."
And although it is stated at the end of the article that service taxi and bus fares will remain unchanged at 2,000 and 1,000 L.L, I highly doubt they will. Even since 2006, we got used to one of the three (Taxis, buses, or minivans) increasing their fares with the other two following shortly after. Which means that we might soon start paying 2,500 or 3,000 L.L for a taxi ride.
Photo via Note Connection
Update:
Buses already increased their fares to 1,250L.L, and some taxi drivers started charging 3,000L.L as per some people on Twitter.