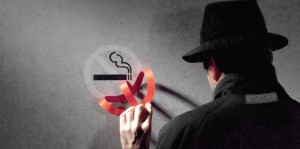 Lebanese tobacco control law number 174 which prohibits people from smoking in all enclosed public spaces went into effect as of today but cafe owners are as expected protesting against this law and calling for exceptions to be made!
Those cafe owners had more than a year to adapt to this law, yet they chose to wait till the last day to express their concerns about it claiming that it puts their business at risk and might force them to fire a lot of their employees.
What I believe these businessmen are missing is that the main reason for people go to coffee places for is basically to socialize, gathering around an arguileh is of course a reason, but I highly doubt people will stop going to restaurants if arguileh is banned as they will still need to get together over a lunch, dinner, dessert, or even a cup of coffee…
Second, what I recently have noticed is that most of the people are missing the definition of an "enclosed public space" according to law 174. Here's how the law puts, and below is an illustration of it.
Enclosed public places include any of the aforementioned places that is covered by a ceiling and bounded by more than two walls, regardless of the type of materials used for the construction of the ceiling or the walls, and regardless of whether the construction was permanent or temporary. Source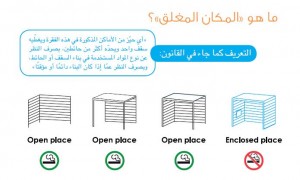 Taken from Smoke Free Lebanon FB page
Now don't tell me it was hard to get around that… I'm pretty sure cafe owners were generating enough profit to carry out a redecoration to remove some walls, install curtain glass instead, and leave them open during summer season.
But NO, we love to make a drama out of everything!