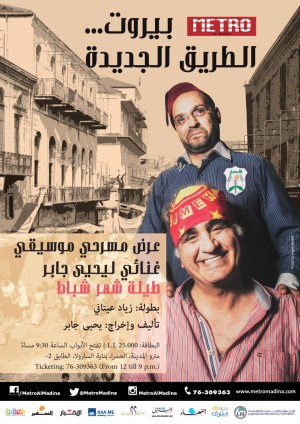 Last weekend I watched the comedy play "Beirut… Tarik el Jdideh" by Lebanese poet Yehia Jaber, and it's by far one of the funniest plays I've watched.
Unlike other comedy plays, Tarik el Jdideh doesn't make fun or disrespect the inhabitants of that area but rather uses black comedy to tell their stories since the beginning of the 20th century till today, while shedding light on the sectarian conflict between Sunni and Shia.
Throughout two hours, actor Ziad Itani (who performs alone by the way) gets you to know the people of Tarik el Jdideh by portraying their weddings, celebrations, funerals, and eid rituals, in addition to telling about real events that took place such as some incidents that happened during the Lebanese civil war and when the Syrians came later on. A significant part of the play also describes the clashes that used to happen between Al Ansar fans and those of Al Nejmeh and how it all started.
Tarik el Jdideh is highly recommended not just for being super entertaining, but also for the strong message it delivers at the end.
It's currently showing at Metro Al Madina and will last till the end of March as their events schedule show. Tickets are for 25,000L.L and you may reserve by calling 76-309363.
Below are some short parts of the play as well as interviews with its writer Yehia Jaber and actor Ziad Itani by Now Lebanon.