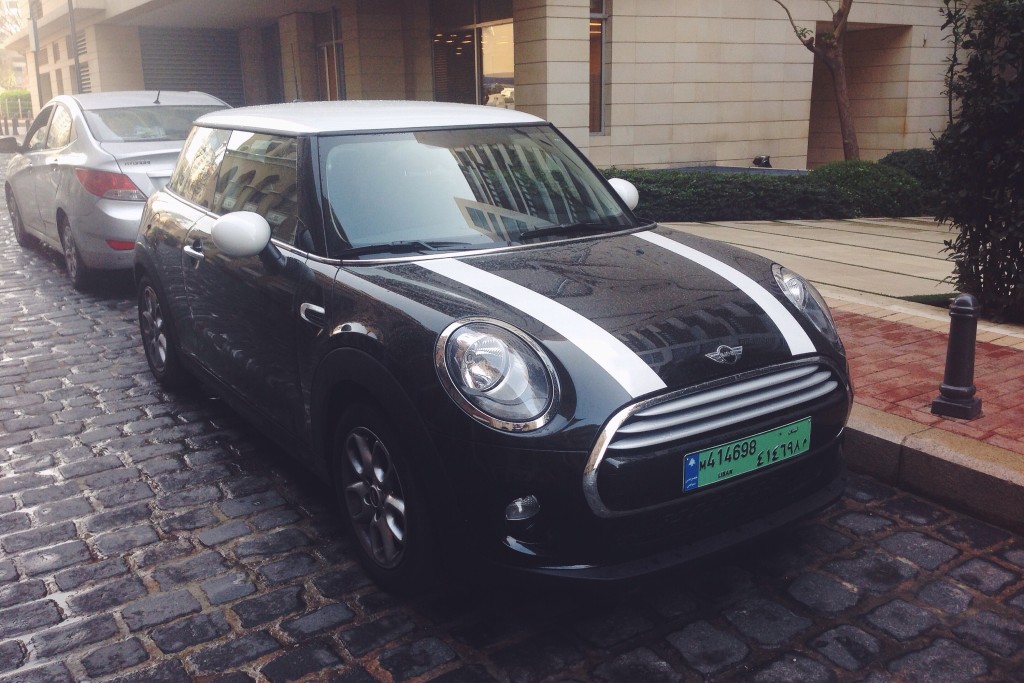 Earlier this month I got a media kit about the new Mini Cooper 2015 models. And being a fan of Mini ever since I was a little kid, I thought of checking with Bassoul Heniene if they have a car available for a weekend test-drive, and luckily enough I was driving one following a few calls.
I actually got the traditional two-door hatchback. And the minute I picked it up I knew I'll be in for a fun weekend. Just like all its predecessors, the 2015 Mini maintains a young cheerful look, and I was quite thrilled with its driving experience.
Body and Interior Design
I personally think what distinguishes the Mini from other hatchback cars is the playful design inside out. The 2015 model got some minor makeover especially with the taillights which no longer look very rectangular, but other elements such as the grille and oval lights remained unchanged. So there's no dramatic changes here but rest assured the car will keep on turning heads on the street.
And to complement the body look, I found the interior to be trimmed with good materials. It actually looks appealing with some cool details like a ring of led lights around the central display that changes colors according to your driving style.
The base model I had included the following features: automatic headlights, rain-sensing windshield wipers, a six-speaker audio system, an auxiliary audio input, Bluetooth, a climate-controlled glove box, and steering wheel-mounted audio controls.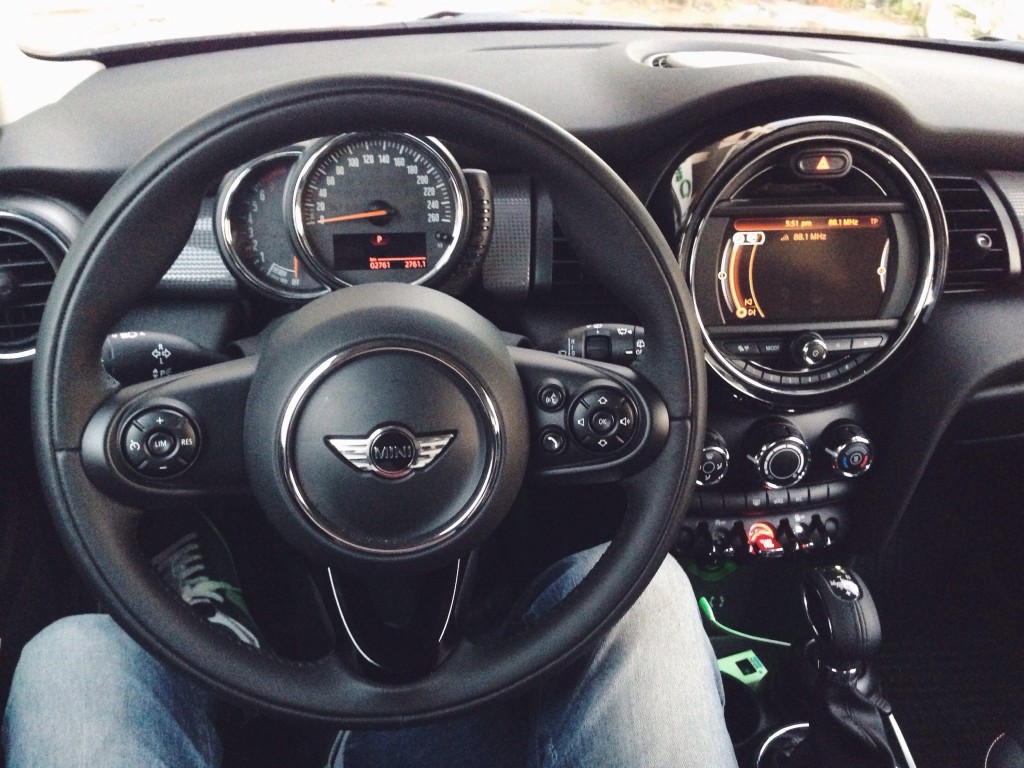 Seating
The driving position feels commanding with a wider viewing angle than other cars. However, while it felt relatively spacious up front, the rear seats seemed sufficient for children and short people. I also tried to mount my kid's car seat but he ended up with his legs almost touching my back. But that was the two-door version at the end.
Driving Experience
It's fun, so fun actually! I personally love to be in total control of the car when driving. That's why I find some cars like Mercedes to be somehow boring. I mean regardless of the top speed you can reach with some cars, you feel like they're guiding you and not the way around, but that's not the case with a Mini. The comparison might sound a bit weird, but with control and fun I was having it felt more like I was playing with an RC car!
The Mini has three driving modes that you can choose from: Green, Mid, and Sport. The green and mid modes are fuel efficient and best suitable for driving in the city and when stuck in traffic. The sport mode on the other hand is much more fun, and you'll get to feel how responsive the car becomes once you switch to it.
I was eventually driving in sport mode most of the time, and I can assure the turbocharged 1.5L engine did deliver! The car acceleration was pretty impressive and the whole driving experience was pretty thrilling due to the sharp handling and responsive steering you will feel, and that's only the base model, so I wonder how S model or even the John Cooper Works will feel! Needless to say, driving back my original car didn't feel very good!
It's worth noting that the Mini has a start-stop function that automatically shuts down the engine when the car is not moving in order to reduce fuel consumption.
My Take
As I said before, it's a fun car, but everything comes with a price. The model I had (1.5L two-door hatchback) is priced at $31,500 which is relatively high for a hatchback car… But is it worth every cent? Damn yes. Actually If I had that budget for a new car I honestly wouldn't think twice before buying one. Feel free to call this review a biased one, but I just fell for the Mini!