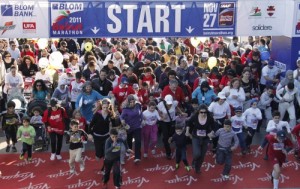 This year's edition of Beirut Marathon did not only witness setting the fastest times ever since its inception in 2003, but also a Bulgarian athlete, Krasimir Georgiev, running the whole distance barefoot!
Georgiev is convinced of the therapeutic effect of barefoot running and says that he cured an Achilles tendon by practicing the sport.

According to the barefoot runner, the activity is ideal for for the prophylaxis of joint problems.
Of all the available treatments, running barefoot would definitely be ranked the last on my list!