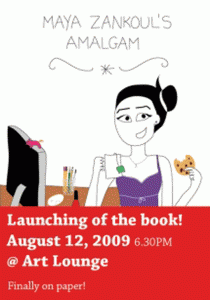 Earlier in May I introduced to you Maya's Amalgam blog authored by Maya Zankoul, a very interesting blog that got exposure from the Future TV and Al-Horra, in addition to getting an interview with NOW Lebanon.
Over the past few weeks we were following the news of Maya preparing a book combining her posts, so it's going to be her blog on papers! And last week she announced that the book signing will be on August 12 and will take at the Art Lounge. It's a unique blogging experience I think, and I wish her all the best!
This Amalgam consists in sketches written and illustrated by the Lebanese graphic designer Maya Zankoul (DOB 30/06/1986). Those sketches represent many situations that everyone of us might face in their daily lives, addressing many critics to some of the society's ugly habits. Everyone of you can actually find himself or recognize a situation that he or she might have encountered in their daily routines.
From the book signing page on the Art Lounge website.

For more details on the event you may visit any of the following links:
"Book signing – Maya Zankoul's Amalgam" Facebook event
Book signing page on the Art Lounge website.
Congratulations Maya!