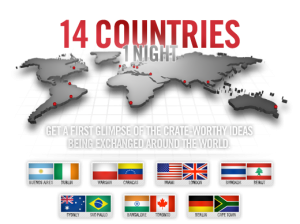 Remember when I told you about the Smirnoff Nighlife Exchange project? Well, last Friday was the time to announce how the participating cities will be pairing and Beirut ended up as a partner to Bangkok.
It can now be revealed that Thailand can look forward to experiencing the best of Beirut's nightlife, as suggested by Lebanese partygoers:

Hostesses will stand at the entrance, welcoming guests in traditional Lebanese outfits such as tarboush, sherwal, or abaya. The "I want to fly" bar-hopping spirit will be at the rendez-vous, reaching its peak with the table-top dancing. Giant screens projecting live concerts at 1 a.m. A Lebanese percussionist will play a striking Lebanese beat for the night, inviting everyone to feel the heat of a far away tempo. At the same time, a follow spot will highlight a belly dancer, who will take the audience on the Aladdin carpet of mystical dreams.

Furthermore, a food and beverage section will quench all cravings and bond the Thai and Lebanese hospitability tradition by offering oriental specialities such as Knafeh, Manakich, and Shawarma, until the early morning, a Mediterranean taste to savour! Thai guests will also enjoy the presence of a fortune teller, who will be reading their palms or predicting their future in a cup of Lebanese traditional coffee. Henna tattoo drawn by a henna artist will keep the memory of that unique night engraved in everyone's hearts.
So for once in their lives, the people of Thailand will know how does it feel to hold a cigarette in one hand, a glass of vodka RedBull in the other, and still manage to party like there's no tomorrow! 😀