I was reading Daleel Annahar of this week (Issue 808, July 25 to July 30 2008) and came across an article about Roula Saad's new video clip with Kıvanç Tatlıtuğ. To my surprise I found that the snapshot of Roula and Kıvanç within that article was taken from an Israeli website (www.panet.co.il).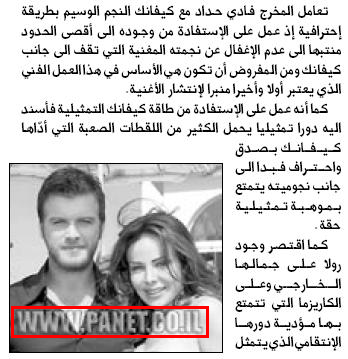 I have no idea which stupid picked that specific photo out of hundreds of photos on the internet for Roula and Kıvanç. Haven't they ever heard of Goolge images? And didn't they notice that they're doing some "free" promotion for that website?
I believe I should start adding a watermark to the photos I post here… you never know when some newspaper publishes one of them!