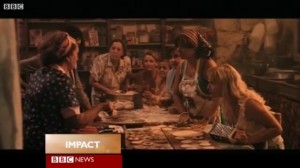 Nadine Labaki's second movie "W halla' lawein?" (Where do we go now?) is set to be released next month. You can watch a short preview of it and an interview with Nadine at BBC News.
The director-actor says she drew inspiration for the film, her second, from the events of May 2008 when violence in the streets gave rise to fears of a possible civil war.

The women of the movie are driven to consider all kinds of measures to try to stop the men in their lives picking up a weapon and joining the violence.
I like her first movie Caramel back in 2007, and I guess I'll be watching this one as well.