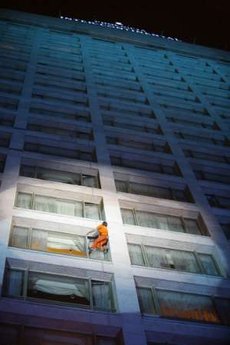 After climbing more than 70 of the world's tallest structures, Alain Robert aka spiderman arrived to Beirut to climb the Phoenicia Intercontinental hotel tower using his bare hand without ropes!
The event was set today at 6:00PM and I heard about it by chance on Mix FM. I thought it would be cool to go and shoot some photos of spiderman but unfortunately I was wrong… As soon as I arrived in my car near the Phoenicia at around 6:10, I found hundreds of cars stuck in a traffic jam on the road passing by the Phoenicia and leading to Saint George.
Reason? Not because there was too many people, but apprently the internal security forces have blocked the road and stopped cars from proceeding towards Ain El-Mrayyseh. I didn't understand why they did that especially that Alain Robert was climbing a tower that is far away from the road….
I was also surprised by how the ISF took actions to make that event a success! As I know, in almost every other country the cops arrest Alain after he does his stunts because it is so unsafe… Check this wikipedia page and see for yourself. The ISF here were actually amused by what he did.
Anyway, at the end after being stuck for more than an hour in that traffic jam without even facing the building he was climbing, I returned back with no photos…
Update: Thanks to Dona, now I'm posting 2 videos of the event.