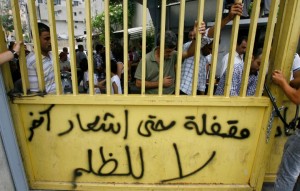 The EDL Board of Directors declared n Monday that the company will be forcibly closed until contract workers and collectors end their sit-in.

In a statement, the Board said that due to this step, power cuts are expected all across Lebanon in the next few hours.

Later in the afternoon, the EDL administration announced that it will be moving to the Zouk power plant and called on President Michel Sleiman to task concerned authorities with ridding the company's main building of protestors. Source
Now that the EDL building in Mar Mkhayel is officially closed, when is the security forces willing to intrvene and send the clowns occupying EDL back home? If not now then when?
While many online campaigns are showing support to the contract workers, I personally support Minister Gibran Bassil in this matter. Those people were almost all hired through politicians like Berri and the alikes, and of course there's an excess number of them now who are becaming a burden on EDL.
To me, these workers represent corruption at its best in our government, and Bassil SHOULD win his battle against them. Otherwise, workers in other sectors will follow the same path to stay in their positions and keep earning their undeserved salaries!
Photo via Marwan Tahtah from Al-Akhbar
Recent Comments
Categories