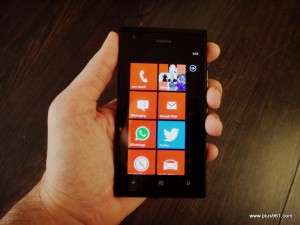 Thanks to Nokia Lebanon, I've been uising this Lumia 900 device for a couple of weeks now and my experience with it has been very pleasant! The Lumia 900 is one the first Nokia devices running Windows Phone operating system (version 7.5) which I honestly think is as good as the currently dominating systems, i.e. Android and iOS.
Hardware:
Although the Lumia 900 is powered by a 1.4GHz single-core processor and 512MB RAM, I was surprised by how fast the operating system is. Scrolling and moving between application was so quick and smooth.
As for the design, well there's nothing to complain about as the phone fits almost perfectly in my hand, with the volume, sleep, and camera buttons all situated on the right side.
Display:
The display is a 4.3-inch, 800 x 480 AMOLED ClearBlack screen, and I know that's less resolution that what you may find on other competitive phones, but I say it's not a deal breaker. Colors on the other hand seems pretty fine and well saturated for my taste.
Camera:
That was basically my only disappointment with the device. Knowing that the Lumia 900 has an 8MP camera with a Carl Zeiss lens, you'd expect the phone will take some really good photos, but unfortunately the camera under-delivers. I don't mean the photos are disastrous, but they're just not too good. Below is for example 2 photos I took with an iPhone 4S and a Lumia 900 for you to notice the difference.

iPhone 4S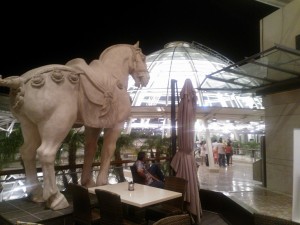 Lumia 900
Battery life:
On my first couple of days using the Lumia 900 the battery was lasting for like 10 hours since I had 3G turned on all the time and was spending long time toying with apps. But on the next days I started turning off 3G whenever I had WIFI around me and the battery life improved significantly improved, so at around 11PM I'm usually left with ~20% battery remaining with screen brightness set to maximum.
Windows Phone:
My experience with the operating system has been very pleasant so far. It took me like an hour to get familiar with it and start downloading some apps to make full use of the Lumia 900.
Multitasking is supported and you will be able to view the open application by a long press on the "back" located on the left. Still, it should be pointed out that every time I tried accessing an application sunning in the background I would receive the application's splash screen… which made me wonder if that application was really working in the background or not.
The experience Windows Phone offers with applications is very nice as well, and they almost all look so gorgeous on it, but still what I believe this operating system is lacking is definitely a wider selection of games and applications like what Android and iOS have.
One this you should be aware of though is that Windows Phone 8 (the upcoming version of Windows Phone) is around the corner and the Lumia 900 is not going to support it.
All in all:
No device is flawless, and that applies to the Lumia 900 as well, but am I willing to continue using it? Definitely yes. Especially that the main applications that I'm concerned with are already available and working very well for me (WhatsApp, Twitter, Facebook, Foursquare, WordPress, etc..), and I'm pretty pretty sure many more applications will be added to the Windows Marketplace soon.