I finally got to try the burger joint everyone has been buzzing about for a while now, "Burger Nation" located at end of Hamra street.
The menu is very straight forwards and offers either their selections of burgers or do-it-yourself, and while explaining about the burgers you can't but notice how much the waiters emphasize on the fact that their patty is made of grass-fed Angus beef that's imported from Australia.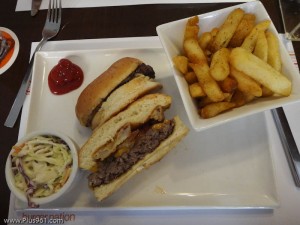 Farah and I shared two burgers, the Nation's Pride and the Swiss & Mushroom both 4oz and medium well, and I have to admit the patty is among the best in town, I mean you can easily feel the difference between others and what Burger Nation offers.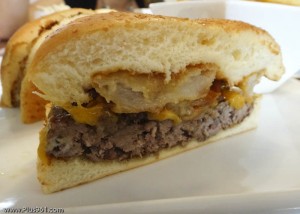 However, the sauces and toppings definitely need an enhancement, at least for the Nation's Pride. With that holy beef patty, I was expecting a much better taste. And don't get me wrong here, I'm not saying it tasted bad, actually I'm planning to go there again to try their 6oz burgers, but I'm pretty sure BN can do better with the toppings.
Would I recommend you to go there? Yes, and do try their belgian fries.