I've been to Le Chef in Gemmayze for the first tine last Saturday, I don't know why I always thought it was a meat shop everytime I passed by until a friend told me about it and recommended it to me.
As soon as you step inside you get greeted with a loud "Wlecooooome" by Charbel the head waiter at the restaurant. Charbel is a phenomenon himself! Throughout your stay he can't but grab your attention everytime he strikes a "Welcooome habibi! how are youuu?".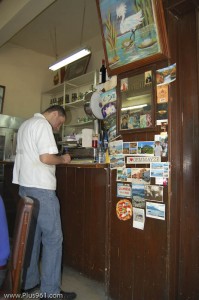 The restaurant is relatively small with few tables, and at first glimpse you feel like everything around you has been there since the 70′s of the 80′s (except for Charbel of course

). The food is just great, it tastes like real homemade food, unlike other restaurants that throw the word "homemade" everywhere on their menus but taste like plastic. They serve nothing very fancy, but rather traditional plates such as Lebanese mezze, and a plat du jour varying between roast beef with mashed potatoes, sayyadiyeh, kibbeh bil sayniyyeh,  mloukhiyyeh, and few others.
The pricing at Le Chef is really something! The most expensive item on their menu costs 8,000 L.L, while others such as lentil soup and fattoush cost 1,500L.L and 2,000L.L!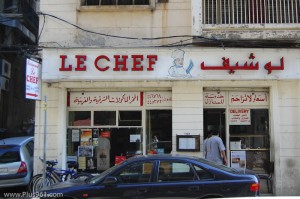 Definitely worth a visit!