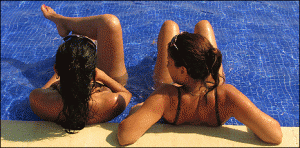 It looks like some people are quite happy about the turbulent situation in Lebanon and the warnings that were issued by several Arab countries regarding visiting the country.
According to The National, some GCC wives are satisfied that their husbands won't be able to visit Lebanon this year and peek at the beautiful women here!
"This is one of the best summers" in a long time, one of my Emirati friends told me recently. She, like many Arab women, would get annoyed at what she called "buddy bonding" – guys-only trips to places like Lebanon. "My husband will not be going with his male friends to Lebanon and I feel so happy about it."

The husband was quick to reply: "Well, if you want mountains, Lebanon has them. If you want beach, Lebanon has it. And it doesn't hurt that wherever you look, you see beautiful women. A bonus for the eyes."

In retaliation, the wife said she will be heading to Sweden this summer. Source
And that would of course mean one thing, more "beautiful women" for us who live in Lebanon!
The article was originally shared by Jad Aoun, and the photo is via YaLibnan.com