I went to é Café at Eddé Yard Jbeil upon the recommendation of a friend back in March for the first time, and have fallen in love with their food ever since!
Passing by the old souk of Jbeil, there's no way you can miss é Café and the barbecue placed outside their kitchen. The place consists of a beautiful outdoor area and a cozy interior space, offering 2 small french and italian menus, in a very nice ambiance. However, you wont need to check on their items because you will know what to order the minute you start watching the chef grilling mouth watering pieces of entrecote!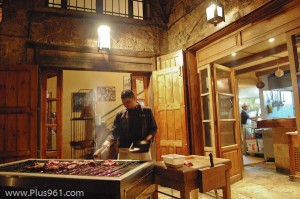 The entrecote will be grilled to your taste (I recommend medium well) right in front of you. Once done, the chef will place it on a bed of grilled onions and potatoes, accompanied with a sauce containing butter and some other things but tastes good anyway, and a bowl or rocca salad with balsamic vinegar, all tasting very good!
When done, your experience will seriously be incomplete if you don't order their Gauffre au chocolat! Ignore any other topping mentioned in the menu, and go straight for the dark chocolate, it just tastes like heaven!
The staff at é Café is very friendly, and it's impressive that their service was very timely each time I went there. If you plan to visit the place, then I recommend you go there on a Saturday night during summertime as the old souk is now packed with outdoor pubs and bars, and gets crowded with people on Saturdays creating a nice atmosphere.