The name pretty much says all what this restaurant has to offer, entrecote meat. I went there a while ago an totally loved it. They have a fixed menu consisting of a lettuce-and-walnut salad as a starter, followed by two servings of steak cooked to your taste with butter sauce and fries on the side. And trust me, the steak is really really GOOD, I had mine medium cooked.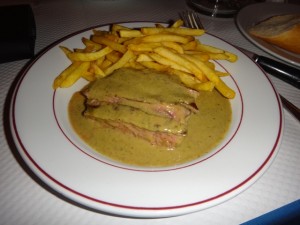 A dinner for two with drinks will cost you around $75-80, and I know you would be paying less than that for a bigger portions at e Cafe, but Le Relais de l'Entrecote offers a really different (don't read better) experience and atmosphere that are worth paying for.
While one could save Le Relais for romantic dinners, e Cafe is to me more suitable for casual outings, and they're both my favorites.
Le Relais de l'Entrecote is located at Abdel Wahab el-Inglizi street and has two other branches at Verdun and Downtown.