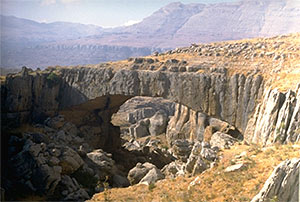 I admit I'm very late on posting this! Il 2ossa w ma fiya, someone is planning to build a cafe on our natural bridge of Kfardebian, which will result in "ruining" this naturally made landmark. What we can do is to show the media that we oppose this project and want to preserve that landmark by gathering tomorrow 9:00AM at the natural bridge.
Below is more details from Blogging Beirut about the schedule.
Our Natural Bridge of Kfardebian-Faqra is in extreme danger. The danger is that of urbanization, of a human kind.
The owner of the land close to the bridge has decided to build an amphitheater and cafe starting from the very edge of the bridge!
LAW 434 – Lists Lebanon's Natural bridge of Kfardebiene-Faqra as the 8th great natural site and wealth of the Republic of Lebanon.
The law also states that this site is protected under a radius of 100m from any type of building or land adjustment. The center of the radius stems from the center of the bridge.
The law also states that for an additional 50 m, no building or activity of any type can take place, that will harm the identity and character of the site.
The land owner already built 9 steps and a concrete wall several meters wide within the first protected radius and has illegally bought the road that connects the main road to the bridge from the municipality of Kfardebien.
On August 8th 2009, a rally to voice our concerns to the media and protect our heritage from destruction.
We will conduct a hike from the Roman Ruins of Kfardebiene-Faqra to the Natural Bridge starting at 9am.
Join us at the ruins at 9am and hike with us to the bridge.
At 10:30 AM the media will cover our event with a press release to help communicate to the Lebanese public the dangers of these circumstances.
We will afterward s enjoy a picnic at the site and listen to a great Musician playing the Oud.
Please help support and protect our national heritage.
Contact Info:
E-mail: savethebridge [at) bloggingbeirut (dot] com