Am I the only one who found these ads by Al Rifai humorous rather than provocative?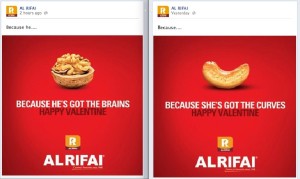 All hell broke loose yesterday after they were posted on Al Rifai's page on Facebook as people started accusing them of being sexist. Some time later, Al Rifai removed these 2 visuals and posted an apology.
Al Rifai would like to point out that the Valentine visuals were not, in any way, trying to belittle the role of women in society. These visuals are part of a campaign that highlights the beauty of every nut and not our view on the role of men and women in society. We believe in equality, not only among people, but also among all our nuts ;-). We hope that you will be able to see things from our perspective.

We thank all of you who appreciated the creativity of the campaign, your support proves that it was a successful one, but in order not to offend anyone and to avoid any further misunderstandings, we have decided to remove 2 of the posted visuals. Wishing you all a Happy Valentine's Day!
I wish someone put the same effort into convincing Spinneys to remove their valentine ads instead. They're so lame!
Anyway, make sure to check Brofessiona Review's post about Al Rifai's issue here.