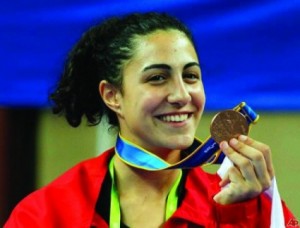 Andrea Paoli who's representing Lebanon in Taekwondo in the 2012 Olympic games won against Nidia Munoz from Cuba today morning and is now one game away from the medals now that she has advanced to the quarter finals.
Her upcoming game today isn't going to be an easy one though, since she'll be competing with Tseng Li-Cheng from Taipei, who was ranked first in the 2012 Asian championships.
All the luck to Andrea!
Update:
Andrea unfortunately lost 2-5 to Tseng Li-Cheng.