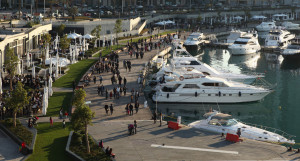 Back in 2012, several websites started posting about a possible closure of Zaitunay Bay closing down due to the slow economy and the low numbers of tourists visiting Lebanon. This however was denied by the people behind Zaitunay through twitter and the media.
Yet just today, Ziad Kamel, the co-founder of The Alleyway, confirmed on twitter that Amarres in Zaitounay Bay will be shutting down due to the instability the whole country is currently going through, which is eventually causing tourists and Lebanese expats to abstain from visiting the country, whereas Zaitunay heavily relies on them.
So while Zaitunay Bay might be staying, one this is for sure, which is that restaurants owners there are definitely struggling to make ends meet, except for Classic Burger Joint probably which always seems to be full! (khamseh bi 3youneh)
Anyway, back to Ziad Kamel, he claimed a second branch of Couqley will soon be opening in Dbayeh on May 15th, which is great news to all those who live north of Beirut. I've been once to Couqley in Gemmayze by the way and totally enjoyed their French menu.