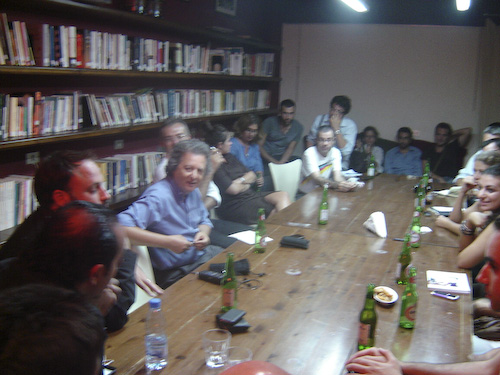 It's all over the Lebanese blogsphere now… Yesterday night I went to T-Marbout along with several Lebanese bloggers to meet with Philippe Couve, Pierre Haski (www.rue89.com), and Eric Scherer from Radio France Internationale.
The meeting purpose was for the French journalists and bloggers to get to know more about the Lebanese blogsphere and its status. We discussed several issues such as why blogging isn't very popular here in Lebanese, and why do some bloggers post very frequently when things heat up in Lebanon and then dump their blogs when everything calms down. They were also interested in knowing if anyone of us had a problem with the authorities because of some content (I wasn't surprised with that question, at the end we're an Arab country!).
In addition, while discussing the Lebanese people in general, we all agreed that they hate to read and write, they're just good at grasping already processed information. Which explains why they're all active on Facebook, and very few of them thought of starting a blog. Lazy nation!
w heik..! by the end of the meetup I was glad I had the chance to finally meet Maya Zankoul & Tarek Chemaly.
Here's a list of the bloggers who were there:
20minutes.fr
beirutntsc.blogspot.com
choueichoueibeyrouth.blogspot.com
qussa.nl
diaryofahalfandhalf.wordpress.com
mayazankoul.wordpress.com
29letters.wordpress.com
klekeesh.blogspot.com
hanane.me
onoffbeirut.com
rue89.com
atelier.rfi.fr
kibot.blog.com
bloggingbeirut.com
And finally, here's what others have posted about the meeting:
Maya Zankoul
Tarek Chemaly
Samer Karam
Pierre Haski
Hummus Nation (a blogger I really would like to meet someday!)