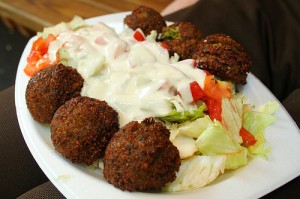 While surfing Naharnet today I came across this dangerous news:
Lebanon in War with Israel but this Time on Falafel
Director General of the Lebanese Industrialists Association Saadeddine al-Owaini is urging Arab countries to participate in the campaign launched against Israel for "stealing the region's dishes."
Owaini announced that he will start contacting the region's ambassadors to urge them to take part in the campaign after a tehini-filled falafel marketed under the Ta'amti brand won the prize for the best food from Israel at the Kosherfest food and beverage trade event, held in New Jersey last month.
The trade fair is held once a year in New Jersey under the slogan "Where trends emerge and traditions continue."
Owaini further complained that Israel is exporting the boxed falafel to make huge sums of money and without having played any role in the appearance of such a dish in the region.
Owaini said he will send a letter to the Lebanese economy and trade ministry to urge it to complain to international authorities. To retaliate, he vowed to prepare the biggest falafel and enter the Guinness book of records to remind the world that falafel is not Israeli.
It seems that the Israelis are really enjoying this food fight! In brief, an Israeli company is marketing a tahini filled Falafel under the name of Taamti, and they won a prize for it being the best Israeli food. Now guess who started complaining! Mr. Saadeddine Owaini.
But since we, the Lebanese people, are known to quickly respond to any threat, and since setting a world record became a piece of cake to us, Mr. Owaini decided that we will be making the world's biggest Falafel to enter the Guinness book and remind the whole world that the Falafel is indeed Lebanese.
I wonder how is this big piece of Falafel going to fit into a sandwich? Or are we going to also make the world's biggest Arabic bread?
By the way, how about a better idea other than setting records to defend our Lebanese cuisine? I suggest "striking" the Jewish cuisine and start exporting some of their cooking as Lebanese products. That would be cool! 😉
The Falafel photo is via Flickr.