Last day I got a phone call from a gentleman in MTC Touch telling me that I will be granted the 3G service for a 1 month free trial period, and so right now I'm among the lucky people who got to participate in the pilot testing of this service in Lebanon. An yes I'm so excited about it!!
The service got activated at around 1PM today on my phone and didn't require any special configuration to run. I randomly started loading websites and found the connection to be pretty fast compared to home ADSL and the crappy GPRS. Below are two tests done using speedtest.net after I shared the connection with my laptop.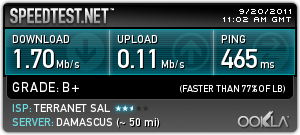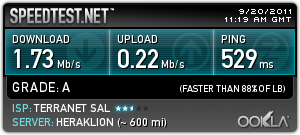 As you can see, download is @ 1.7Mbps which is superb compared to the current internet speeds, while upload is varying between 0.11 and 0.22Mbps. Ping is of course higher that it is supposed to be, and I hope it'll improve soon. Note that I was in Beirut central district at the time of this test, and I guess speed might vary depending on your location.
3G subscriptions will be available for both postpaid and prepaid lines, and data transfer will be limited to 4GB/month. It isn't clear tough how much will the operators charge for it.
I'll hopefully be posting more updates on the connection quality and speed throughout this trial period.