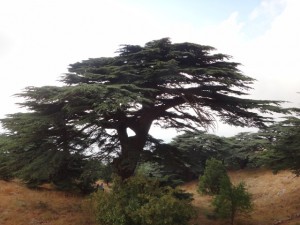 I've always heard people talking about the Shouf cedar reserve, but I never knew it was really that nice until I visited it last weekend thanks to a couple of friends.
We were originally planning a visit to Maaser El-Shouf village but then got tempted to continue further to the cedar reserve, the largest nature reserve in Lebanon containing 25% of the country's cedars, and to our luck there was some festival ongoing in Maaser and shuttle service to and from the reserve was offered for free.
Entrance tickets are at 5,000L.L, and once you're inside you'll get to choose among 3 hiking paths with different lengths and each showing you different parts of the reserve. We chose the shortest one, a 1.2Km walk that took around 25-30 minutes to complete with awesome views and feel. Definitely worth a visit especially if you're showing some tourists around the country.