You probably have seen this at several places in Beirut "ليش حرش بيروت مسكر؟" (Why is Beirut park closed?) among other stencils as well, which appear to be part of a campaign to open Beirut park to the public.
You might be surprised, but I'm actually with keeping people away from this park until they really deserve it. I mean look at all the public spaces in Beirut, are we treating them good? The corniche at Ain El-Mrayseh for example looks like one big shisha cafe now! Young boys come in their 1990 BMW and Golf cars, turn up their radios to Ali El-Deek songs, set their shishas, and start dancing Dabke! Wala anawran min heik.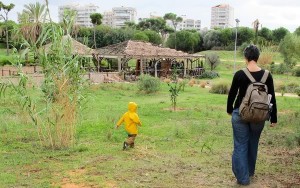 The possibilities are endless with what they may do to Horsh Beirut. Littering? BBQ parties on weekends? Ripping out the plants?
So until we learn how to treat our public spaces really good, keep Horsh Beirut closed please!