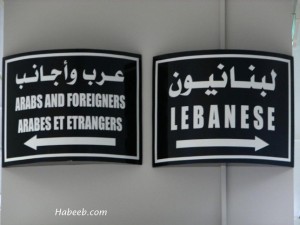 Check out this racism incident that a guy called Abed Shaheen has witnessed at Beirut International Airport yesterday and shared on Facebook.
Racism at Beirut Airport! My personal hands-on experience.

Yesterday on the 6th of October I was at gate 11 with a friend of mine waiting to board the Air Arabia flight at 20:25.

While waiting to board there was a group of foreign workers sitting with the rest of the passengers waiting for their turn. They were behaving normally as any other group of passengers would. Then sadly, the lady (looking at her uniform she apparently works for MEA Ground Services and not Air Arabia) at the gate announced on loud speaker (over the whole system covering the airport) the following: "Filipino people stop talking"; then she started giggling about it with the macho gentleman who was with her at the gate. They continued their racist behavior by announcing again "Filipino Nepal people talking not allowed here" and on and on.

Shocked, I obviously became furious and approached them and explained that this racist and discriminatory behavior is not acceptable, impolite and does not at the least reflect what employees at Beirut Airport should stand for (not to imply it's acceptance in any other situation of course).

This unfortunately sounded like a joke to them and they went on to say "we do whatever we want and we don't care about what you are saying", then "management doesn't even want this kind of people on the flight" and "even if you complain this will be thrown away and we dare you to do anything about it". When I asked her "how would you feel if you ever wanted to travel to Europe and while queuing for your visa they told you the same thing?", she replied "these people are different"; The macho gentleman seeing that his female friend, whom he was trying so hard to impress with his imitating giggles, was cornered with her twisted racist logic even went further to ask me to back off the counter and threatening to make a problem and to void my ticket!!

When I asked for the complaint form they answered (While still laughing of course) "take it from the flight attendants and good luck sitting next to such people on the flight" I did file an official complaint with Air Arabia and their staff was very helpful and promised to reach the message out to their management. However Air Arabia is paying MEAG for such services and they need to use their power to do greater efforts too to ensure that the people behind this are held accountable. I also sent an email today to Mr. Richard Mujais from MEAG, explaining what happened and asked him to further discuss this with me and to show us that these employees were held accountable for such racist behavior.

Until then, and as a friend suggested that they also need to be exposed please help me exposing such intolerable behavior…
What a shame…
Update:
MEA posted the following response on their Facebook page yesterday:
To our loyal customers and fans,

We are aware of the purported incident that took place on the 6th October 2012 at Beirut International Airport, and appreciate your patience while a full investigation by MEA is underway. Please rest assured that MEAs policy is not to tolerate discriminatory or racist behavior in any form from our employees, and that appropriate measures will be taken once the facts of the incident are brought to light.

Yours sincerely,
The MEA Team
And the story made it to BBC Arabic!
Update:
MEA issued a second statement today announcing that severe disciplinary actions have been taken against the involved staff in this incident.
To our loyal fans and customers,

Having investigated the issue that occurred on the 6th October, 2012 at Rafik Hariri Intl. Airport – Beirut, which involved misbehavior by a MEAG (subsidiary of MEA) passenger service agent, we would like to issue the following statement.

This type of behavior represents an isolated case, and is 100% against MEA's policy.

It does not fit within MEA's culture, and furthermore goes contrary to our training procedures.

Severe disciplinary action has been taken against the staff concerned.

Kindly rest assured that our goal is to attain the highest levels of customer satisfaction.

Yours sincerely,

The MEA Team
It was mentioned in an article by the Associated Press that the woman was fired and a disciplinary action was being considered against her male colleague.