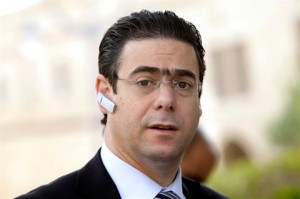 The ministry of telecommunication is holding a competition called "Lebanese bloggers reinvent the world" and offering the winner a trip to Silicon Valley with minister Nicolas Sehnaoui.
All you have to do is submit a blog post about one creative invention that you think might change the world, to be assessed by a jury of prominent Lebanese in Silicon Valley working in the ICT sector.
The digital era is revolutionizing our societies.

As Lebanese, we are uniquely equipped with the creativity needed to succeed and shine brighter than any other country on the Digital Sphere. So let's embrace the digital revolution and reinvent the World!

Whether it's a flying car, a humanoid Nano-Robot that manipulates our DNA or an environmental country sized biosphere that reduces pollution we all have that one crazy creative invention that might change humanity.

Compose and submit a blog post about this topic under the main title "Lebanese Bloggers Reinvent the World", accompanied with a subtitle reflecting your own Invention.

Blog posts will be judged by a jury of prominent Lebanese in the Silicon Valley working in the ICT sector based on the writing style and the creativity of the Invention.

The winner will get the chance to visit the Silicon Valley with Minister Sehnaoui end of March.
If you have some creative idea, make sure to write about it and submit it as soon as possible to the competition website www.reinventingtheworld.net, since the competition ends in a couple of days from now on March 1st, and results will be announced on March 6th.