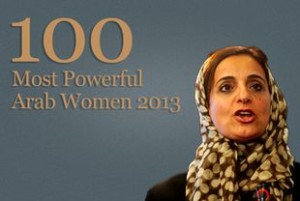 Arabian Business published their 2013 list of the top 100 powerful women in the Arab world, and 12 Lebanese women made it to the list, with the most powerful one being Nayla Hayek (chairwoman of the Swatch Group) who came in the 8th position.
Below are the Lebanese woman who made it to the list:
8. Nayla Hayek
14. Leila El Solh
31. Fairouz
39. Nadine Labaki
41. Nancy Ajram
42. Elissa
46. Anissa Helou
49. Cyrine Abdelnour
56. Najwa Karam
66. Octavia Nasr
81. Mona Bawarshi
90. Christine Sfeir
Is it a bit weird to see people like Nancy Ajram and Elissa making it to the top 100 while there's no mention of Haifa Wehbe? Anyway, you can check the full list here.
Thank you Ivy