According to an article on Now Lebanon and another on Beirut Report, it seems like the post I wrote back in March on the new highway in Achrafieh connecting Hazmieh to Charles Helou is true, since the project has already been given a green light and works might start in a month or so.
And ever since the news was spread, "Save Beirut Heritage" has been opposing the project as it requires destroying 28 old buildings. But how true is that?
I mean let's assume each building has only 3 to 4 families living in it, then the government should currently be in the process of buying a minimum of 90 apartments in order to later destroy them and be able to go forward with the project. But 90 isn't a small number, that's 90 families who can easily coordinate a protest or at least appear on TV to oppose being evacuated from their apartments, which is not the case right now.
That means the number of buildings is either much lower than 28, and therefore a large chunk of the highway will be underground, or the government is offering a really large sum of money for the families and they're simply happy with it.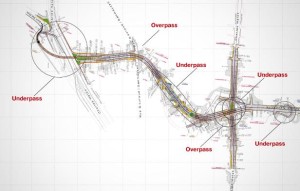 And let's be real for a moment, the highway might be seriously endangering Beirut's heritage, but old buildings in the areas of Achrafieh and Mar Mkhayel are rapidly disappearing anyway to make way for high rise towers! So are we over-reacting a little bit here..?
Anyway, I personally don't really see the need to connect Charles Helou with Hazmieh through a highway passing by Achrafieh, since there's already another highway connecting Hazmieh to Karantina which is pretty close to Charles Helou!