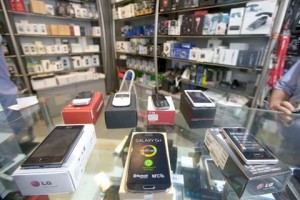 As you all know, and in order to stop mobile phones smuggling in Lebanon, the ministry of telecommunications is now requiring all traders to register the IMEI (a unique ID assigned to each mobile device) of every legally imported mobile phone or tablet.
The collected IMEIs will then be used as of today June 1st to filter the devices that are allowed access to our mobile networks (alfa and touch). So typically speaking, a legally imported mobile phone with its due taxes paid will be allowed to connect to the mobile networks, while other smuggled ones will be denied access since their unique identifiers are not registered at the ministry.
The weakest ring in the process is of course the group of people who will be responsible of the data entry of the registered IMEIs. Since they will be easily able to register and IMEI of some untaxed mobile if there was not much control over them.
As a result, mobile phone prices ended up notably increasing over the last week. For instance, the guy who sold me my mobile was listing the iPhone 16 GB for around $650 since mid-May I guess, then he increased the price 2 days ago to $745. Logically due to the fact that the handsets he's currently offering were legally imported and subject to some import tax.
Everybody is eventually complaining about all of this, especially that it gets a bit complicated when you buy some used handset from abroad. And I know it's wrong to complain about a price increase when it's a result of complying with the government taxation rules, but still, a $100 increase totally sucks!