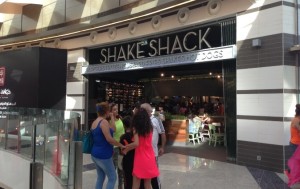 I've been waiting for Shake Shack to open at Beirut City Centre for so long now and it finally did today. The place is fairly spacious with glass barrier around the kitchen so you can see where all the magic happens, and the staff is quite friendly and welcoming.
I ordered a signle ShackBurger (American cheese, lettuce, tomato, and ShackSauce) and was glad to experience the same great flavor I once had in Shake Shack Dubai.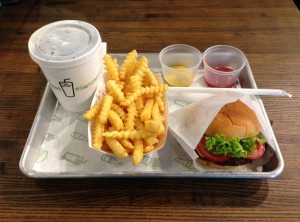 Once you get your order you can't but notice that their burgers are kind of small, but as soon as you finish your meal you will realize you actually got the right portion due to the fatty beefy meat which will make you feel full (or almost full depending on how big is your apetite!).
However, and despite being really really good, I felt like their prices are a little bit high. For example, you pay 11,000L.L for a single ShackBurger, and an additional 10,000L.L for regular fries and Pepsi. But then again, they follow the same pricing scheme almost everywhere. Still, this certainly wont stop me from totally recommending it. Do go try it and treat your taste buds to some great burgers!