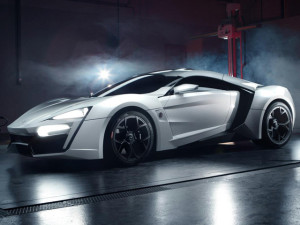 Despite its very high price tag, the Lykan Hypersport managed to get over 100 orders soon after it was revealed in Qatar last month, which means the 7 copies of the car are already sold out.
The Lykan Hypersport was priced at $3.4 million which is probably enough to fill anyone's garage with a cool collection of sports/super cars.
The Arab world's first supercar was unveiled at the Qatar Motor Show last month, where fledgling carmaker W Motors revealed its Lykan Hypersport. Just a few weeks on and Beirut-based W Motors has revealed that over 100 orders for its two-seater supercar have already been taken. Not an astronomical number by most standards, until you realize that Arab supercar has been priced at $3.4 million – making it the world's most expensive production car. Source
I'd love to see the guys at Top Gear or Nadim Mehanna maybe trying it out on TV and have their say about it.