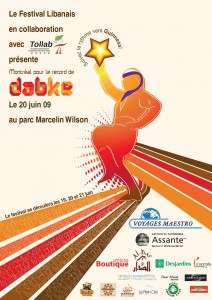 Wanna contribute in making history? If you live in Montreal, then here's your chance!
Tollab, a federation that unites all the Lebanese student associations of Montreal, are planning to set a world records on the 20th of June by forming the biggest Dabke chain that will place Montreal in the Guinness Book of records. Their aim is to gather at least 3,500 people at the Marcelin-Wilson Park on the 20th of June to dance the dabke, hand-in-hand, for at least 5 consecutive minutes.
This event will be part of the "Festival Libanais de Montreal" from 19 to 21 of June 2009 at the park located in "11301 Bd de l'Acadie".
Keep in mind that this event is not exclusively for the Lebanese living in Montreal, so regardless of your nationality you can participate in setting the world record, as the main  purpose of the event is to unite all Lebanese and Montrealers of all colors, religions, names or cultures, who are willing to participate.
Forming the chain will start at 7:30PM on June 20th, so make sure to show up beforehand if you're willing to participate in otder to organize things well.
For more information, you can refer to the even't page on Facebook, or Tollab's website.