Al Jadeed posted today a video  of Jackie Chamoun (who's currently competing at the Olympics in Sochi) and Chirine Njeim posing topless on Faraya ski slopes for six-time Mexican Olympic skier and photographer Hubertus von Hohenlohe.
The photos were meant to be published in Hubertus' calendar "Ski Instructors".
Needless to say, Al Jadeed are calling it a scandal and were wondering if the Lebanese Ski Federation was aware about these photos since it "harms our reputation", as if our reputation worldwide really needed two gorgeous skiers posing to the camera to get ruined!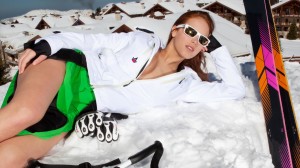 Regardless of whether our society is conservative or not, I believe Chirine Njeim and Jackie Chamoun are totally free to do what  they want, especially that a lot of international athletes have posed either topless or completely nude and it's nothing strange to sports.
You can check the truth about these photos here, and below is what Jackie Chamoun had to say about them.
It was positive for me. I don't regret it at all. When I started my job, for example, people when they search for me on the web sometimes they can see these pictures directly so you think maybe it's not the best thing, not the best image you can give someone of you. But, I don't really care, though. I really enjoyed it and I don't regret it. I like these photos. I have no problem with it.
Al Jadeed could use a chill pill, no?
P.S: The video is NSFW